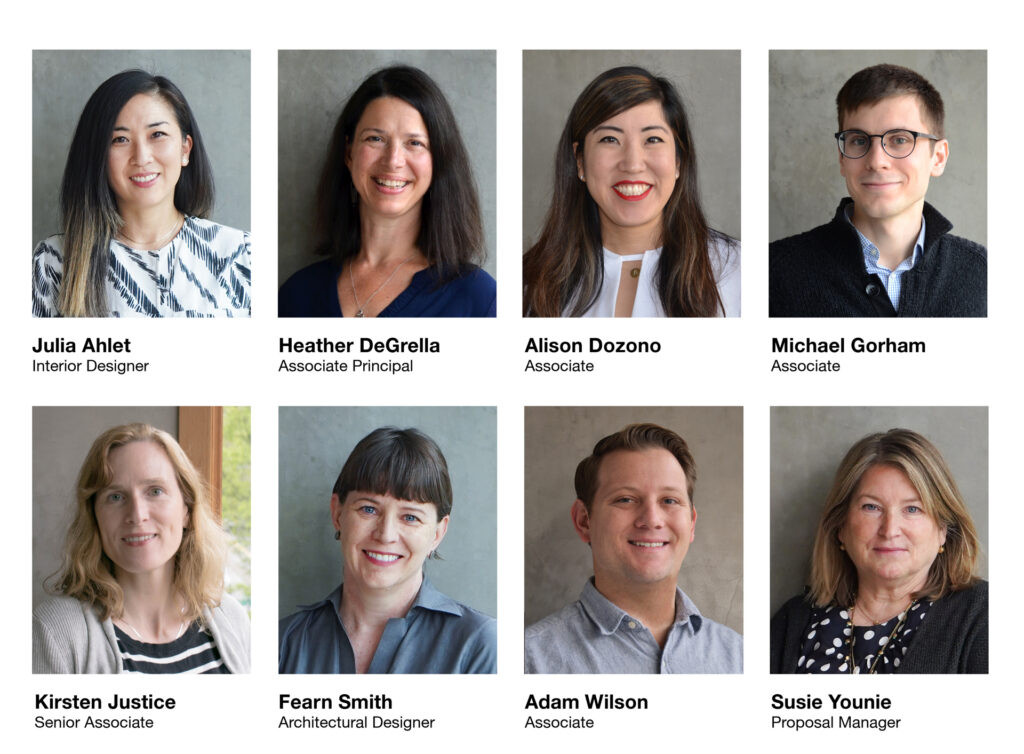 Opsis Architecture (Opsis) announces our new hires and promotions.
Julia Ahlet joined Opsis in March 2020 as an Interior Designer. Julia is currently working as Interior Designer for Eugene School District 4J's North Eugene High School project. Julia has designed interiors for educational, healthcare, commercial and hospitality projects. The success of her projects stem from her skills in visualization, communication and organization. Graduating summa cum laude in 2006, Julia received her Bachelor of Fine Arts Degree in Interior Design from State University of New York College at Buffalo.

Heather DeGrella, AIA, LEED AP BD+C, Earth Advantage, Fitwel Ambassador, has been promoted to Associate Principal at Opsis. Heather's tireless passion for green building is evident throughout her 20 years of extensive community and professional service, public speaking, and through practical application on a diverse number of design and research projects. From early programming and schematic analysis to construction administration, Heather always puts the client first and strives for a strong collaborative process.

As Associate Principal and Sustainable Design Director for Opsis, Heather ensures that knowledge of best practices and tools are shared and used collaboratively. She has led sustainable design at Opsis, including AIA COTE Top 10 winner the Oregon Zoo Education Center, path to net zero Woodburn Success High School and LEED Gold John J. Hemmingson Center at Gonzaga University.

Alison Dozono has been promoted to Associate at Opsis Architecture where she is a Project and Cost Accountant, a member of the Opsis Equity, Diversity and Inclusion Group and serves as Chair for the Opsis Community Engagement Group. Alison holds a Bachelor of Arts degrees in Art History and Italian Literature and Language from Smith College.

Michael Gorham, AIA, LEED Green Associate, has been promoted to Associate at Opsis. Michael is committed to the belief that architecture should be affordable, accessible, and sustainable for all. Since joining Opsis, Michael has worked on cultural arts and education projects throughout Oregon including Patricia Reser Center for the Arts, Fairbanks Hall Renovation at Oregon State University and May Street Elementary School in Hood River. Michael is committed to promoting alternative transportation initiatives within the office and volunteering with Saturday Academy. Michael earned a Master in Architecture and BFA in Architecture from the Savannah College of Art and Design, where he graduated magna cum laude. He is a registered architect in the state of Washington and a LEED Associate.

Kirsten Justice, Associate IIDA, LEED AP BD+C, has been promoted to Senior Associate at Opsis. As Senior Interior Designer, Kirsten brings over 20 years of experience in interior architecture/design and sustainability to the Opsis team. She has a passion for delivering excellent design work. With her strong technical background she is able to collaborate with clients, the architectural team and consultants while achieving design and sustainability goals. Her experience ranges from higher-education, K-12, healthcare, government and civic work to improvements of all sizes and missions. Kirsten graduated from Technische Fachhochschule Berlin with an Engineering/Bachelors of Architecture degree and previously worked at Steidle + Partner and Gibbins European Architects in Germany.

Fearn Smith joined Opsis in March 2020 as an Architectural Designer. Fearn is working on the Eugene School District 4J's North Eugene High School project. Fearn has a Bachelor of Fine Arts degree in Interior Design with a Minor in Sustainability and a Master of Architecture from the University of Oregon.

Adam Wilson, AIA, LEED Green Associate, has been promoted to Associate at Opsis. Adam specializes in utilizing digital modeling software, coupled with hands-on physical making, as tools to explore the built environment. He is passionate about improving communities – from his previous chapter in the world of public art to now designing inspiring spaces for students to learn and thrive. Since joining Opsis, Adam has worked on higher-education and K-12 projects for clients including Oregon State University, Portland Community College, Salem-Keizer School District, Gresham Barlow School District and Portland Public Schools. Adam earned a Master in Architecture from University of Oregon's Portland Program.

Susie Younie joined the Marketing team at Opsis in February 2020 as Proposal Manager. Susie brings 22 years of experience in marketing and communications services for professional firms in the A/E/C sector. At Opsis, Susie will lead proposal development from strategic planning to completion. Susie attended the University of Washington with studies in Fine and Studio Arts.